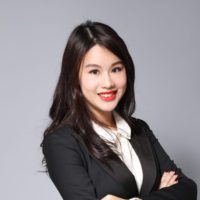 Aria Hu 胡蕊
Mandarin teacher
Aria Hu is a passionate and humorous Mandarin teacher at Nihao Language Education in Hong Kong. She is great at teaching Chinese exam courses, HSK Exam(Hànyǔ shuǐpíng kǎoshì 汉语水平考试, Chinese Proficiency Test), and the PSC exam(Putonghua Shuiping Ceshi), and she is good at teaching Mandarin for Cantonese-Speakers in her 10-year teaching career.
She graduated from The Chinese University of Hong Kong. She received the National Putonghua Proficiency Test Grade One of the Category Two. She loves teaching Chinese as a foreign language very much. Her students love her vivid teaching style and the renewal rate of our Mandarin Chinese exam course is always the highest.
She is good at teaching Chinese songs in the Junior Mandarin Course. Besides teaching students, she assists in compiling our tailor-made Junior Mandarin Course class handouts and additional Junior Mandarin Course teaching material.
To know more about the students' learning outcomes, please visit here