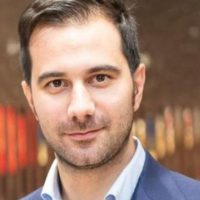 Marco Galimberti甘茂才Gān Màocái
Italian
"Hi all, my name is Marco and I come from Italy. I started learning Mandarin in February 2020, since I had a lot of spare time during the COVID 19. NIHAO has been recommended by a good friend of mine.
I am very happy about this choice and I am happy I did it with NIHAO!.
My teacher Violet is very professional, she has a lot of patience, and she's been very supportive during this beginning phase.
I am very happy about learning Chinese and I look forward to traveling soon again to China and show my colleagues my progress!
NIHAO is a professional education center in teaching Chinese and very organized. They provide extra tailor-made books, they keep track of my progress and offer some tests to me during the course and after the whole course, they are flexible in timing arrangement and I am sure I will continue my journey to make it to HSK Level One, Two and Three!
I will keep on going with NIHAO, and I highly recommend NIHAO to other people like me who want to start Mandarin for business purposes!"