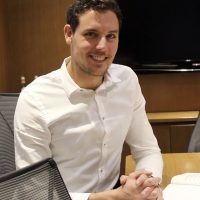 Richard | HSBC 匯豐銀行
English
Chinese Course_Mandarin Classes_What Students Say About NIHAO
"I am so happy to study Mandarin Chinese at Nihao Language Education in HK, a top-ranked Mandarin School in Hong Kong. I was introduced to NIHAO Language Education through my good friend. It's really a good experience at Nihao Mandarin School. My Mandarin lessons in Nihao are one on one. One Mandarin lesson per week. I am a complete beginner. I have been studying Mandarin Chinese for 28 sessions so far.
I have been learning about how to introduce myself, how to talk about my friends, family, and colleagues, and learning about ordering food and drinks at restaurants, and also learning how to direct a taxi driver, how to arrange my schedule, to book a hotel and a restaurant, and go shopping buy stuff and some bargain tips. The Nihao Chinese topics are really interesting and practical.
I have an extra Chinese grammar book designed by Nihao Mandarin School. It's easy for me to understand the structure of Chinese. Their Building Block Methodology is quite useful. You can make Chinese sentences easily from their basic building blocks. I also like Nihao's extra exercises and oral Chinese topics. They are tailor-made for me. Oral topics are very practical.
Before starting Mandarin Chinese, I didn't know where to start with learning, either Chinese characters or Chinese sentence orders, but since studying Mandarin Chinese at Nihao Mandarin School, it's really interesting to find out the Chinese structure by applying the Nihao building block method. It's much more simple than I thought. My friends say I made great progress. And my Chinese teacher is so professional and patient. I am so happy to study Mandarin Chinese at Nihao Language Education in HK. After this Mandarin Beginner Course, I will continue to attend Nihao Intermediate Mandarin Course, and I really like their tailor-made materials and their clear way of explaining Chinese culture, including Chinese Idioms and Chinese Festivals. Adults' Mandarin Course at Nihao is the best.
I would highly recommend Nihao Language Education."